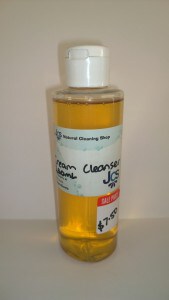 Cream Surface Cleaner 250mL
$7.50 + Postage: $0.00
JCS Cleaners Taranaki Cream Surface Cleanser 250mL
This surface cleaner is high strength and a highly concentrated product that can be used as a 'Jif' alternative so it goes a long way.
Can be used as a bathroom scrubber, fantastic on getting grit off kitchen utensils, great for all surfaces, and is stronger then our Citrus Surface Cleaner by far.
All JCS Cleaners products have ingredient labels. Ingredients in this particular product include essential oils, citricidal seed, Borax, Liquid Castile Soap, White Vinegar and Polysorbate 20.
Shaking product before use is not required however can keep the products ingredients consistent if it has been left on a shelve for a long period of time. Safe around pets, kids, and won't cause harm to the skin.
Comes in 75ml and 250ml sizes. All natural ingredients. No chemicals - at one great price of $7.50.