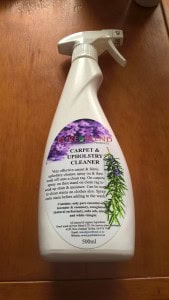 Carpet & Upholstery Cleaner 500ml
$10.00 + Postage: $0.00
This very effective carpet and fabric upholstery cleaner is a spray on, then soak off on a clean rag action - it's simple, in other words!
For use on carpet spray on then stand on clean rag to soak up stain and moisture. Can be used to clean stains on clothes also. Spray on stain before adding to wash.
Contains pure essential oils of lavender and rosemary and is an 100% natural product with high reviews.